The Myers Trifecta
The State Capitols of Elijah E. Myers
Welcome to Glorified Boxes. If you're receiving this, I've taken the liberty of adding you to this newsletter and assumed you're someone who might find this of interest.
No hard feelings if you want to smack the "Unsubscribe" button!
I was getting bored with my blog. Plus paying for a website that was just a vanity project seemed like a bit of a waste (at least this vanity project is free). The rising popularity of newsletters piqued my interest and I've decided to dive in. Knowing that I couldn't just post my photos here without people getting bored, given they're also on Instagram, I think I've found an angle that might be worthwhile.
As the title of the newsletter states, I take photos of nothing more than glorified boxes. I'm not sure why it's fun to think of buildings this way. I don't mean to downplay the glorious beauty of them and the painstaking effort involved in designing and constructing such things, but so much of the architecture world seems too self-indulgent, so being overly simplistic provides a more entertaining way to think about buildings.
So what can you expect? Well, you've likely seen these photos, though maybe not, but I plan to write a bit about the background of these things and the people who made them a reality. What are some fun facts? Are there weird details that people might not notice when they stroll by? Why the heck did I choose to take photos of it? Not sure what kind of cadence you can expect for future posts, but I have some fun ideas.
Enjoy!
---
I can thank my parents for my love of state capitol buildings. Throughout my childhood and into my adult years my parents made a point to plan trips around visiting state capitols around the country. We usually see one or two at a time, but often, we'd knock off a handful. In the summer of 2005, we visited seven in one trip: Montpelier, Concord, Augusta, Boston, Providence, Hartford, and Albany.
It was my assumption that we visited these stately structures due to our interest in the history of our country. What better place to visit than the ultimate physical manifestation of our nation's ideals and history in each state? I have since learned that the primary reason we chose these locations was that, unlike Disney World, they don't charge admission.
Despite the reality of the motivation, I'm grateful to my parents for putting in massive efforts to trek to as many as we've done. I've kept visiting a few on my own. I'm up to 45 now with Honolulu, Juneau, Little Rock, Madison, and Sacramento remaining. I've also been lucky to have called four capital cities my home: Columbus, Phoenix, Salt Lake City, and now Austin.
They're easy buildings to fall in love with. There's 50 of them to choose from, and though most follow a similar template, each has its own quirks and styles that fit the time they were built and materials and murals that colorfully represent the states in which they stand. Each of them is worth visiting at least once. Some of us are lucky enough to live near enough that we see it every day. A reminder that we're a part of something bigger and a symbol of our ideals and the future that we strive towards despite the often dark history in our wake.
---
Who is Elijah E. Myers?
Born in Philadelphia in 1832, Elijah E. Myers became a prolific architect in 19th Century America with various civic projects popping up around the country. These included city halls, courthouses, libraries and more. That "more" is doing some heavy lifting considering he's the only architect in U.S. history to design three state capitol buildings: Michigan, Texas, and Colorado.
Fun Fact: His design for the Utah State Captiol was not selected, but that would have been pretty cool!
Michigan State Capitol
In 1872, years after serving in the Civil War, he was commissioned to design a new state capitol for the state of Michigan. His proposal, submitted under the pseudonym "Tuebor", which means "I will defend", resulted in a tan, sandstone building that mixes Neoclassical, Italianate, and Renaissance Revival styles. The tall and skinny cream-colored dome took inspiration from the U.S. Capitol in Washington. It was completed in 1878 and, like many state capitols, has undergone numerous renovations over the years.
While the outside might look a bit simplistic to some, the interior of the building is one of the more beautiful we've seen.
Texas State Capitol
In 1881, Myers won the contract worth $12,000 to design a new capitol for the young, burgeoning state of Texas. He might have gotten a raw deal as the contractor who built the capitol was given 3 million acres of land that is allegedly now worth around $7 billion. You win some, you lose some.
By this time Myers had begun to develop a reputation as someone that was not easy to work with. Over his career he sued multiple architects claiming they copied elements of his designs. Just a few years prior to winning the bid to design a capitol for Texas, he lost a lawsuit over claims that Edwin May copied elements for the Indiana State House.
His professional behavior, or lack thereof, on the project in Austin resulted in his firing in 1886. Gustav Wilke oversaw the completion of the captiol using Myers design.
We Texans are a proud people so the ultimate symbol of our state had to, of course, been constructed in a symbolic way. Construction of the new capitol began when the cornerstone was laid on March 2, 1885, Texas Independence Day. It opened to the public three years later on April 21, 1888, San Jacinto Day.
One very important note about the construction of the Texas State Capitol: it was built primarily using convict labor (most of whom were black) and slaves. Texas was a part of the Confederacy and slavery played a central role in the convoluted history of Texas. Nothing to really be proud of, but I'm glad we've made progress from that horrific world, even as we have much more to do to resolve the side effects of our history. (Side note: If you're interested in Texas history, I highly recommend Stephen Harrigan's "Big Wonderful Thing". It should be required reading for all Texans.)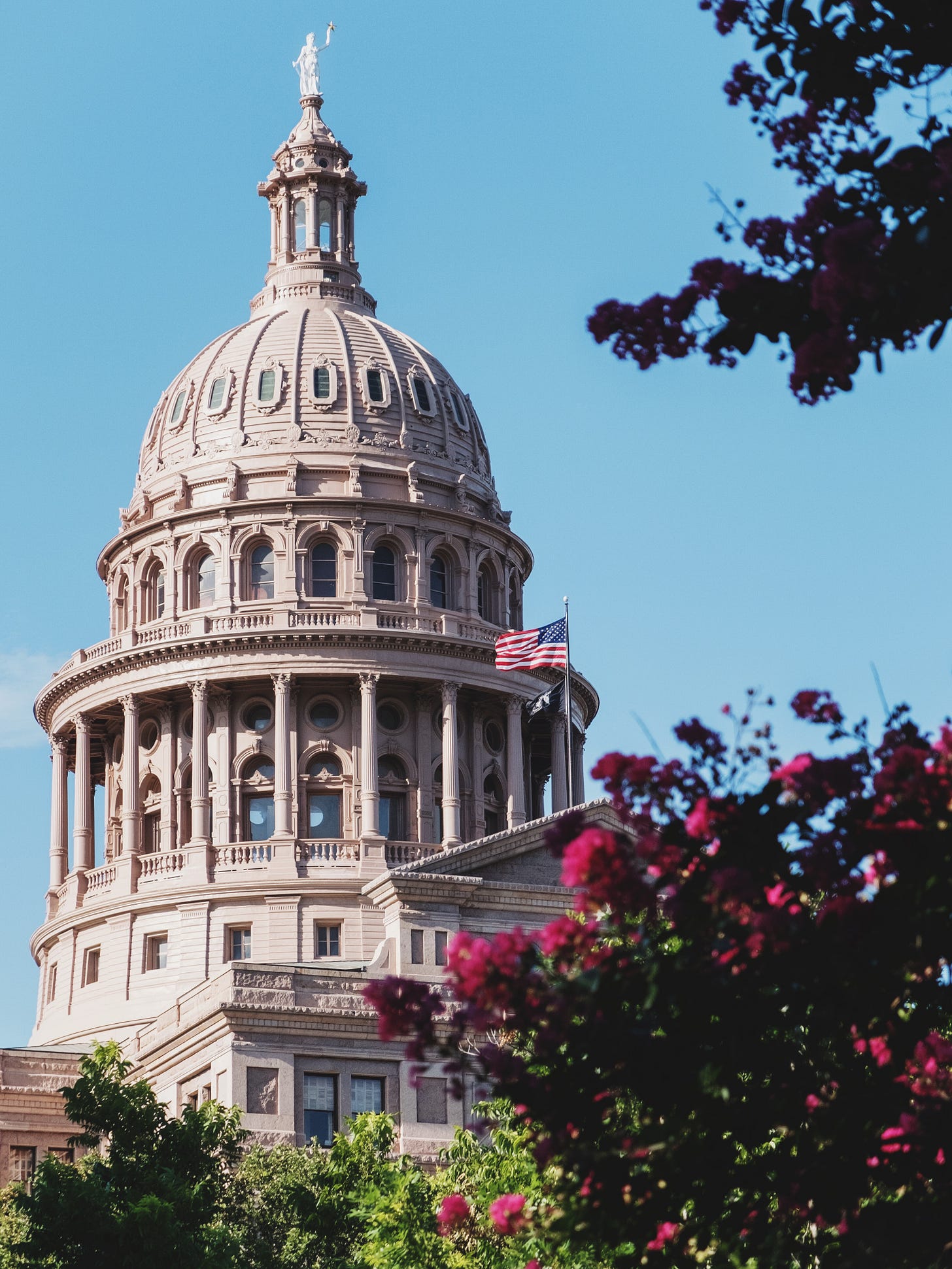 Designed in the Italian Renaissance Revival style, the building was originally supposed to use limestone, but with a risk of rust due to local limestone having discoloring iron particles, sunset red granite was used instead. The owners of Granite Mountain in nearby Marble Falls donated the grante used to build the capitol. It's color is unique among state capitols and is one of the reasons it's my favorite building in Austin.
Colorado State Capitol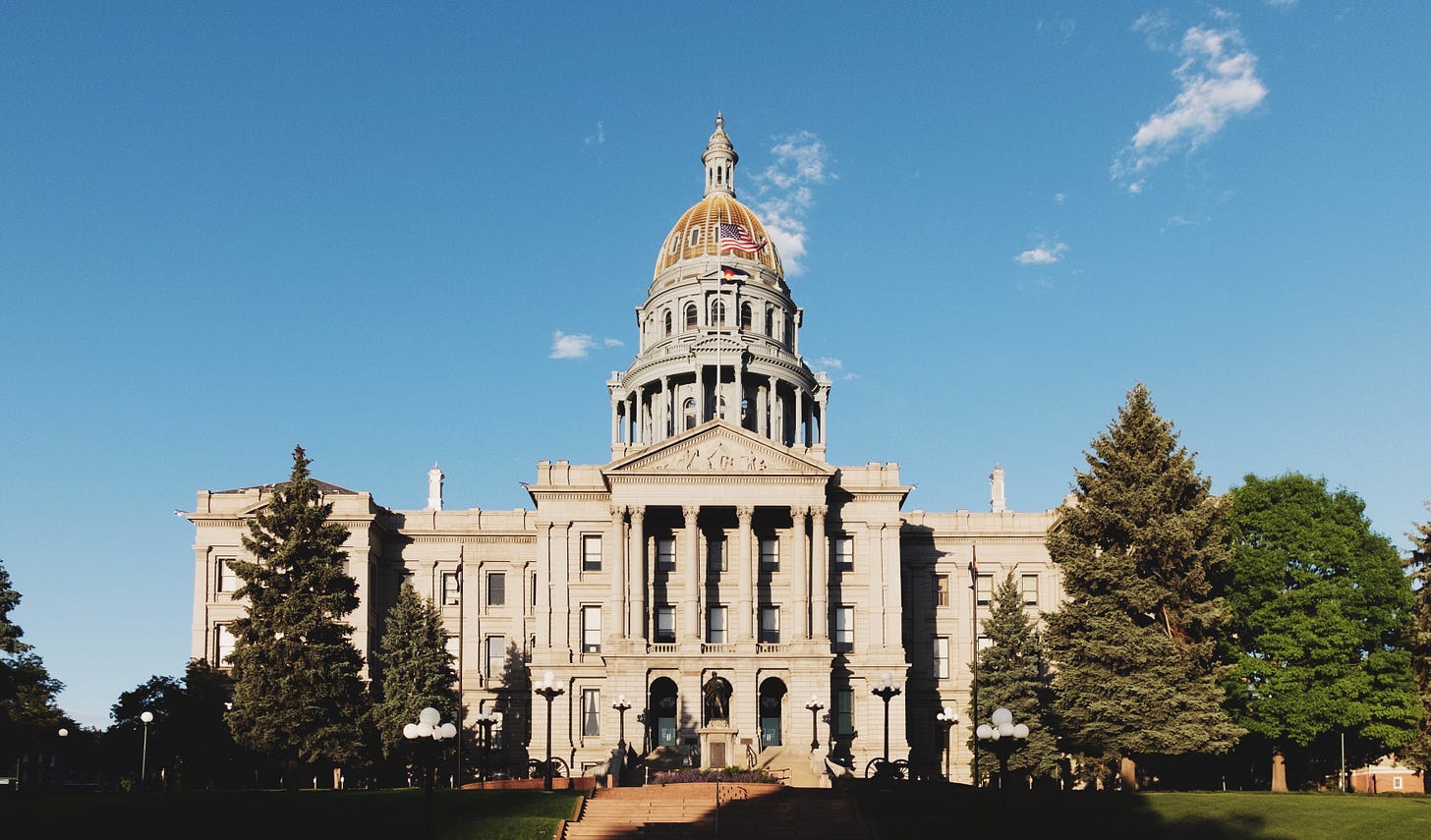 A few years following the completion of the Texas State Capitol, Myers won the bid to design a new capitol in Denver, Colorado. Completed in 1894 using Colorado white granite, it sits upon aptly named Capitol Hill providing a beautiful vista on from which to view the sunset over the Rocky Mountains.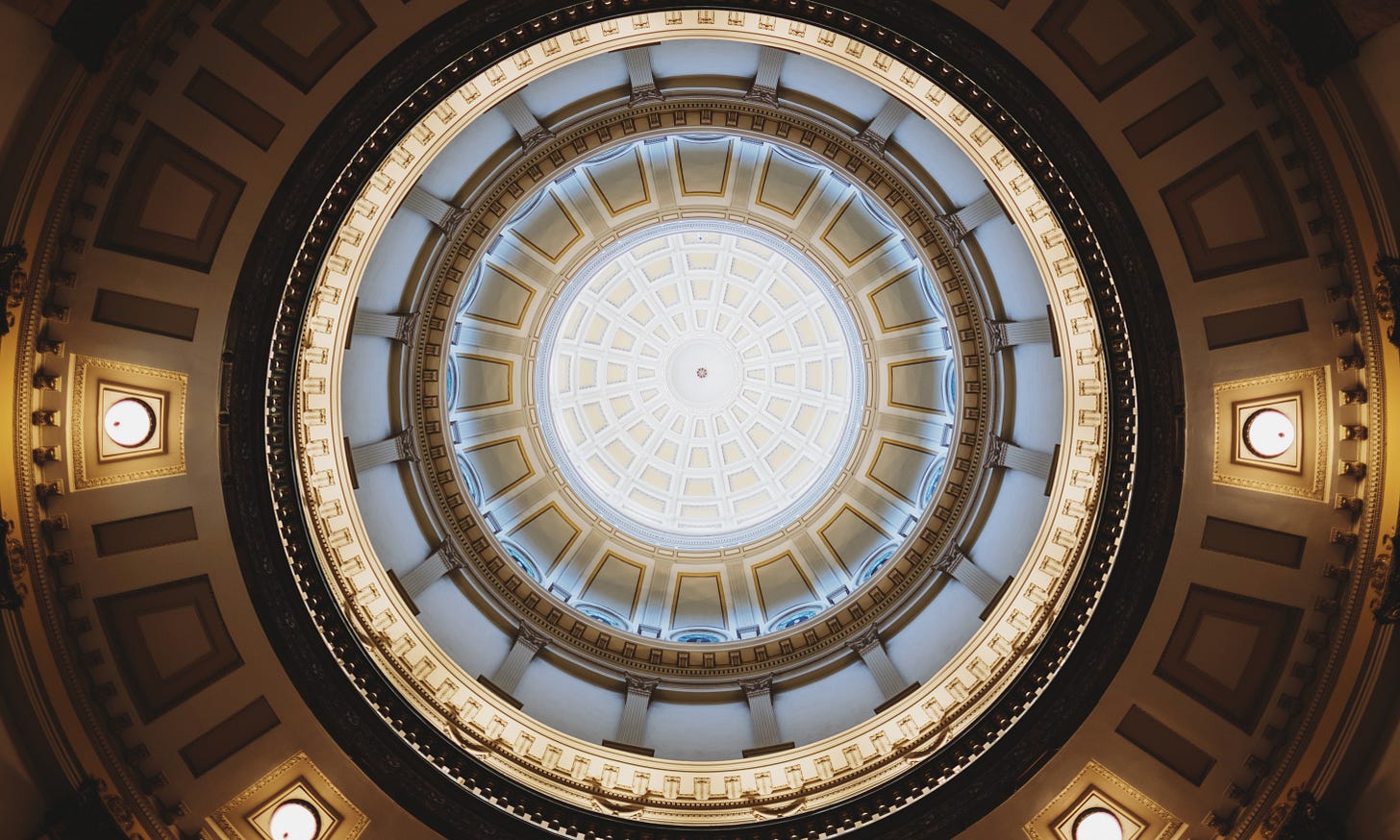 Unsurprisingly at this point, Myers was also fired from the project though his design still ended up being used.
One of the hallmarks of the Colorado State Capitol is its gold dome which uses real gold leaf. It's quite a sight in person, especially as the sun makes its way across the sky. Underneath the gold is a copper dome which was the original design until the gold was added in 1908 to commemorate the Colorado gold rush.
Another fun quirk for visitors is seeing the not one, not two, but three different "mile high" markers on the western steps leading up to the capitol. Updated measurements throughout the years lead to two additional markers moving the "one mile above sea level" from the 15th, to the 18th, and finally, to the 13th step.
---
It's incredibly impressive to design three capitol buildings, let alone one. Elijah Myers may have been a pain in the ass to work with, but he designed some iconic buildings that embody the best of what their respective states have to offer, even if they're sometimes or often filled with really stupid people. Myers died in 1909 in Detroit, Michigan leaving behind a legacy of great American architecture.
I feel lucky that I've been able to not just have visited these buildings, but done so in the last few years. Each has been a marker in my journey to improve my photography. One has acted as a constant in my portfolio and will continue to be a primary subject of my photos while I live in Austin.